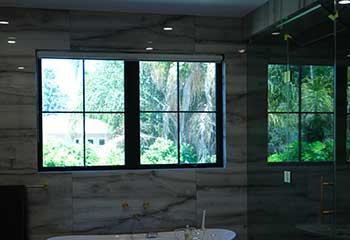 Faux Wood Blinds
Customer Issue: This customer wanted to protect the privacy of her bathroom with moisture and heat resistant blinds.
Our Solution: This customer was completely unaware of the fact that faux wood blinds even existed, let alone that they would do precisely what she needed them to. She chose the color that matched the color of her cabinets and let us do our thing. As soon as we tailored the blinds to the size of Mrs. Archer's bathroom windows, we returned and mounted them in record time.
Estelle Archer
- Dana Point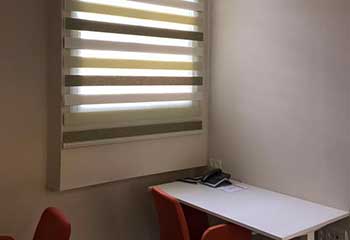 Roller Shades
Customer Issue: The customer needed three windows throughout his business covered. He asked for our consultation team to help him choose a style that worked for the setting and fit his budget.
Our Solution: The customer agreed on three nylon roller shades, two yellow and one black with a floral design to match their respective rooms. All three windows were standard four-by-fives with deep enough frames to accommodate our compact rollers. Installation was straightforward, and testing went off without a hitch.
Lance Jaquel
- Laguna Beach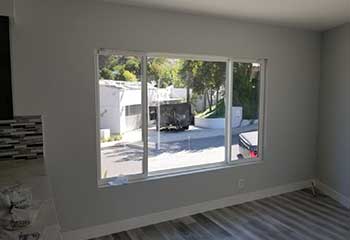 Vertical Blinds
Customer Issue: Mrs. Kim decided that her apartment's window treatments could use an upgrade after years of abuse from kids and pets.
Our Solution: Mrs. Kim felt that vertical blinds were best suited for the look of her home, as well as her budget, out of the styles we showed her. They're easy to part and look out of as needed, and adjust to let in some natural light while keeping it away from the TV screen to avoid glare. They also suited her large windows the best and elongated them.
Shannon Kim
- Aliso Viejo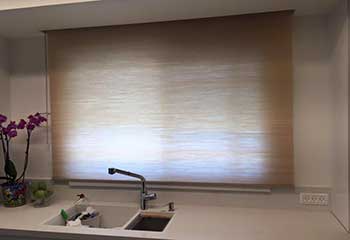 Faux Wood Blinds
Customer Issue: The customer wanted wood blinds but without the risk of damage by water thanks to wanting to put them in his kitchen.
Our Solution: Our team suggested that Mr. Ford get faux wood blinds instead, which would look the same but have no risk of any damages occurring due to water splashing from the sink or otherwise. Once measurements were taken by our professionals, the blinds were made and installed throughout the customer's home right away.
Victor Ford
- Aliso Viejo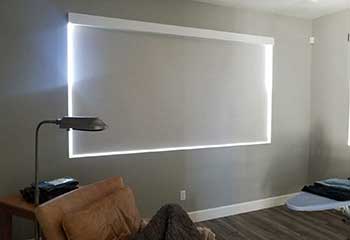 Roller Shades
Customer Issue: Wanted economical but fashionable room darkening shades in the bedrooms.
Our Solution: The customer chose classic, functional roller shades made from room darkening fabric in colors and designs that matched the existing color scheme of each room. As an extra feature he added cassette headrails with fabric insert, and a cordless lift system. Our team easily installed the custom made roller shades to the family full satisfaction.
Kyle Caldwell
- Dana Point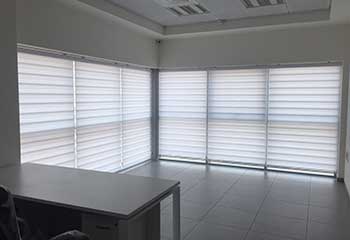 Aluminum Blinds
Customer Issue: A burglary at his store convinced Mr. Bukovich that he needed some more obscuring window treatments to avoid thieves' attention.
Our Solution:The team readied some obscuring vertical aluminum panel blinds. Because of the length of the storefront, our technicians installed two connected lengths of track to cover it all. A simple slide can now turn the window into a forbidding gray wall and back again.
William Bukovich
- Laguna Beach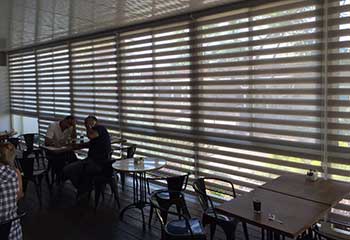 Bamboo Shades
Customer Issue: A new Chinese restaurant owner ordered a complete set of bamboo roller shades to give his business that extra bit of atmosphere.
Our Solution: Fortunately, all but one of the seven large windows were the same size, so there were only two sets of dimensions to fit the bamboo shades to. Our customer also ordered tracked edges to keep the shades straight and minimize the chances of tearing and catching.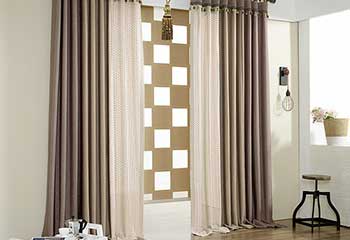 Motorized Drapery
Customer Issue: Mrs. Devaya remodeled her house with a new guestroom, and wanted maximum comfort and convenience.
Our Solution: The customer chose a set of lined, dark maroon and tan sliding curtains, and opted for an automated movement system. Once the products were fitted and customized, installation was an easy matter, and syncing the remote control with the new motor even simpler.
Nasa Devaya
- Laguna Beach