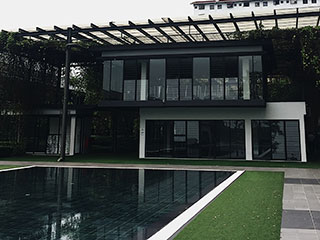 Proper shade outdoors becomes very important if you want to enjoy your deck and hardscape patio area. You can't sit under the blazing sun all day without ample coverage to protect you. Even with UV blocking cream, your eyes can become very strained if you don't have a shaded area to lounge in. The custom made patio covers we install offer the perfect protection as well as splashes of color and décor. You've got a great range of different patio cover types to pick from, making it easy to find something to suit your taste as well as your budget.
Patio Umbrella With Stands
A very decorative addition, patio umbrellas give your Laguna Beach backyard or front area an aesthetic touch. Wide patio umbrellas can cover large areas without creating any restrictions on movement. Naturally, big umbrellas for patios with heavy bases will not allow for much portability. However, a solid patio umbrella can excellently shade a designated spot. And you can opt to get more than one installed. Patio umbrellas can also add ornate aesthetics to the area, with elaborate designs, or simpler looks with straightforward aesthetics. It's all up to you. Remember that heavy patio umbrellas will cost more than simple sails or thin fabric shades. But if you want magnificent aesthetics and need durable patio covers to add to your property, patio umbrellas offer an excellent choice.
Shade Sails & Canopy Tents – Pop Up Freestanding Covers
To add protection from harsh sunlight to an open space with no beams or columns, a free-standing patio cover offers an excellent solution. You can use pop up canopy tents to create shaded pavilions in your patio or on your deck or open courtyards. The aesthetic of colors adds a lot to the landscape design, and portability becomes very simple. For very colorful aesthetics, shade sails in Laguna Beach patios make for a very beautiful choice. The open and minimalistic structure of shade sails makes them excellent for stretching a canopy over an open space without obscuring vision. Custom made shade sails can cover areas of different sizes, cost very little, and require very little time to install.
Motorized Patio Covers – Laguna Beach's Top Installers
Opting for remote control features for roller shades and outdoor canopies has become the popular choice. And for many good reasons too! Motorized patio shades and outdoor covers let you press a button and have the coverage unfurl, roll, or unfold all by itself. You decide how much shade you want at any given time, and you can change your mind and adjust the motorized patio covers at will. With solar-powered motorized patio covers, you can create an eco-friendly, green energy covering solution for your outdoor spaces. Harness sunlight to power motorized patio covers, which in turn protect you from sunlight. It's the perfect circle! For the best deals on custom made patio covers near Laguna Beach, get in touch with our team. With free estimates from our local pros, you'll get the best covering solution for any deck, gazebo, patio, or other!