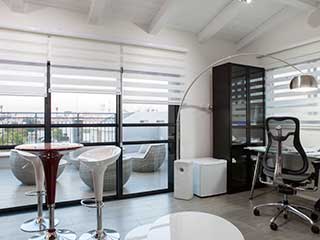 Roller shades are one of the most popular types of window shades due to their simplicity, affordability and widespread availability. The design features a headrail containing a roller which dispenses a flat sheet of fabric to cover your window. This type of blind is very easy to customize to the right size, comes in a wide range of colored fabrics, and is incredibly simple to use. Everyone in your home or office will recognize these blinds and know exactly how to use them without hesitation.
Why Choose Roller Shades
Roller blinds are ideal if you favor simplicity and ease of use over everything else. This dependable design will get the job done at a pocket-friendly rate. The fabric on the blind can be solid if you prefer a shade that effectively blocks out light and heat from the sun. If you plan on using your blind in the bathroom or kitchen, you'll want to ensure you have a moisture resistant fabric that will not decay over the many years of expected usage.
Have The Perfect Size
This style of blind is very easy to resize. Our team can alter the dimensions of the head rail and the sheet to ensure that your blind is the right size for your window! Don't put up with a blind that doesn't adequately cover your largest or smallest windows. Let our experienced technicians make sure your new blind is perfect for your needs.
Need more help with picking the right design or have any other questions? Contact our team today to have all your questions answered or to learn more about our in-home consultation services. We can help you select the best options from our expansive range. Get in touch for more information today!