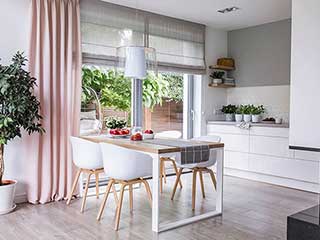 Slightly more elaborate and protective than basic shades or curtains, these stylish window treatments have become increasingly popular in the United States over the centuries. Roman shades come in a great variety, and ours are no exceptions!
What Are Roman Shades?
Rather than being made up of separate pieces like cellular shades and Venetian blinds, or wrapping up around a spindle like roller shades, the Roman style consists of a contiguous sheet that folds up into overlapping ripples when pulled open. This adds a great deal of decorative value to the shades, at the cost of them always covering the very top of the window even when pulled all the way up. They can be made from cloth, bamboo, canvas, or other materials.
The Main Benefits
The ribboning or pleating effect is what makes Roman shades stand out aesthetically, and some styles retain their shape to a certain extent even when closed. The more heavily rippled ones not only give the closed window a more elaborate texture, but also do a better job at blocking out sunlight, thanks to their overlapping layers of material. These combined traits make them ideal for bedrooms and other calming, private spaces.
Detailed Fringes And Slits
All our shades are custom made, with products that include embellishments. The bottoms of the shades can be cut into curved or angled ripples. They can be hung with tassels or other ornaments and opened into hanging slits or tails, to let in more sunlight when they are in a semi-closed position.
Motorized Options Available
Just like roller shades and blinds, our Roman products can be ordered in both traditional cord-drawn and motorized versions. A cordless Roman shade gives you all the classic aesthetics of a 19th century manor house, while also remaining child-friendly and compatible to modern technology. Most importantly, our team provides full installation services to ensure a complete and ideal user experience.
Ready For You Right Now
Inform us what you would like your dream Roman shades to look like and we will make it happen for you! Whatever your customized needs are, give us a call and we will be happy to help.