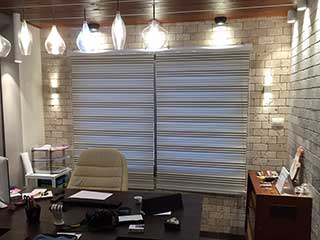 If you want to rest assured that your rooms are all properly photo-regulated at all times, motorized shades are the go-to solution for you. Our electric shades are available in a wide range of styles and materials, and can be custom made for any window dimensions.
The Basic Roller Shade
These simple covers are probably the easiest to motorize, as they are bound to the window frames and prevent tangles or folds from getting caught in the mechanism. They are ideal if you are in need for a practical, low-maintenance product that protects your furniture and interior climate. They are also the most unassuming for a room with minimalist decor.
The Decorative Options
Automation doesn't need to come at the cost of aesthetics. Hanging window covers of fine bamboo or Roman-style pleated shades require only slightly more care and maintenance than the basic roller style, while fitting any well-decorated room with a lush, old fashioned ambience. Guest rooms, bedrooms, lofts, and studios benefit from this option in particular, not to mention spacious waiting rooms and offices.
Maximum Sunlight Control
If you have delicate furniture that needs protection, or just want to make sure your shades do the best job possible letting light in and keeping it out when wanted, there's always the layered or honeycombed options. Cellular and layered shades deal well with motorization thanks to their heavier weight that keeps them straight and properly aligned. Additionally, there is no other option that offers a finer and better control over light conditions.
Automation Has Benefits
Convenience is the most obvious selling point for automated shades, but it is far from the only one. Even if you forget about your curtains, they can be programmed to adjust themselves throughout the day to minimize your use of expensive air conditioning and heat. More importantly, drawstrings for unpowered curtains tend to be a choking and strangulation hazard for small children. If you have toddlers running around at home, motorized shades are by far the safest option.
Get Your Automatic Shades Today
These are just some of the product options our company has to offer. From basic and standard options up until fully customized, energy-saving models, Laguna Beach Blinds & Shades will provide you with the best shades for your windows.