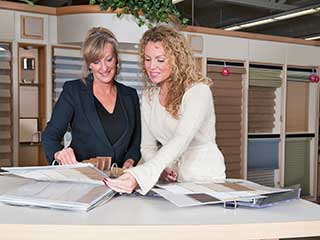 From motorized roller shades to aluminum, vinyl and wood blinds, with us you can get a range of high quality window treatments for any purpose. Whether you need to cut down glare in your office, or add a little extra privacy to your bedroom, we have an affordable and effective solution that ticks all the boxes. Every nearby home or business owner, from Ventura County to the OC, who's looking for new window treatments, hand-drawn or motorized, need only give us a call.
Making The Right Choice
We know how essential window coverings are to any room. They make the difference between dingy and airy, gloomy and spacious. Choosing blinds with the right style and design is essential, and there are many different options to pick from. There are motorized Somfy blinds of the vertical, vinyl and faux wood variety, and there are hand-drawn pleated Roman shades and various other blackout and room darkening fabric-based options.
Which Blinds Are Right For Me?
This question can be difficult to answer, as your budget, taste, and specific sun blocking requirements need to be factored in. To help you decide which blinds and shades are right for you, Laguna Beach Blinds & Shades provides in-person consultations at your property, allowing you to get personal advice from one of our experienced experts.
Fast and Professional Shade Installation
Apart from supplying you with high-quality custom made window treatments, our team provides professional installations as well. Leave it to us to ensure that everything is installed to the highest professional standards, guaranteeing that you'll get perfect operation out of your new blinds and shades from day one.
Your Nearby Blind and Shade Dealers
Get in touch with the team at Laguna Beach Blinds & Shades today to set up your free no-obligation consultation. You'll find us always ready to help, so don't hesitate to book an appointment using the scheduling system on this website or simply giving us a call.
Contact Us To Schedule an Appointment Today:

5-Year Warranty

Custom Made Blinds and Shades

Somfy and Lutron Products

Personal Consultation and Advice