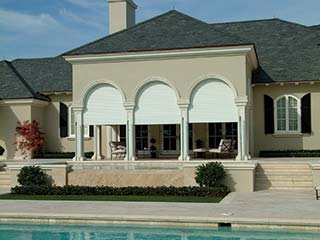 With new-age technology for window treatments, motorized shading solutions have become the popular choice. And for very good reasons! Motorized blinds give you tremendous convenience when it comes to adding shade to indoor settings. From small apartments to big office spaces, automatic window coverings with quiet motors can optimize your use of natural sunlight for all sorts of purposes. And as far as motorized shading solutions go, Somfy blinds have become synonyms with one of the best options out there. With meticulous care for details and excellent quality provided at affordable costs, Somfy blinds give your Laguna Beach property a major benefit for any room you want.
Why Choose Wireless Motorized Window Blinds
Since the original inception of motorized blinds, this type of covering option has seen a marvelous transformation. Blinds with remote control give you the utmost convenience when it comes to deciding how much sunlight you want to enter your property. Push a button and the blinds will adjust to block more or less light as you see fit. For sunlight diffusion, Somfy motorized wireless blinds offer an excellent variety of dimming options too. Motorized roller shades, sheer or blackout, offer fantastic options for creating different ambiances. The use of wireless motorized blinds gives you a more aesthetic look with no wires running alongside walls and ceiling.
Rolling Shutters For Any Window
A big, sturdy option, motorized rolling shutters that utilize Somfy controls offer significant benefits to the property. You can enjoy much better security with window shutters, given the more durable build and stronger materials used. Motorized rolling shutters for windows can easily cover big glass walls for a unified look that moves simultaneously, as opposed to individual blinds sets. The smooth movement of rolling shutters has a clean appearance that offers a more high-tech décor look for residences and office spaces alike.
Motorized Shading For Outdoors
Somfy controls help create excellent coverings for decks, patios, gazebos, and all sorts of other outdoor shade structures. From pergola screens and motorized awnings to deck canopies and patio shades, Somfy provides remote control functionality with Wi-Fi connectivity, letting you use your phone or tablet as a remote too!
Smart Somfy Blinds in Laguna Beach
The modern age has seen major improvements in all sorts of fields, but especially in motorized shading solutions. Find out more about the fantastic innovations of Somfy products with a free estimate from Laguna Beach motorized blinds near you! Our team offers customers in-depth advice and free consultations in-person on motorized shading solutions for residential and commercial properties. Book an appointment via our call center or the online scheduling system!