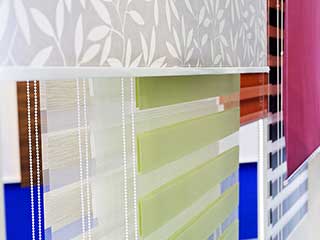 When it comes to choosing the right window treatment for your home or your business, it often seems like the options are unlimited. Start by understanding what is available and what best fits your needs.
What Are Blinds?
Blinds are made of slats, vanes or louvers that are individually constructed and attached together to form a whole unit. They move up and down, side to side and can be tilted at an angle manually, with a cord or with an automated mechanism. Blinds are made of metal, vinyl, aluminum, plastic, bamboo or wood, and come in a variety of sizes, colors and styles, including vertical and Venetian. They are regarded as "hard" window treatments and are generally a bit cheaper.
What Are Shades?
Shades are a continuous roll of material that covers the window, that can be drawn up and down with a cord or a spring, either manually or automatically. They are made of an array of fabrics, bamboo or polyester, and come in a variety of sizes, colors and styles including roller, Roman, sheer, solar, layered and cellular. They are regarded as "soft" window treatments and are generally a bit more expensive.
How To Choose The Right Fit For Your Window?
Before looking at the options available, consider your preferences – cost, privacy, light control, technology, safety and cleaning. Once you know what your priorities are, you can start looking at the many styles and colors the market has to offer. If light and privacy are important, remember that you can adjust the angel of blinds, while shades have blackout and light filtering options. In case you are worried about the safety of your kids and pets, we suggest exploring cordless and motorized options. Finally, if you are concerned about cleaning, note that blinds collect dust but can easily be vacuumed or washed, while shades often need professional help. And a last tip, if you are a technology freak, you should explore the motorized options, which are available for almost all window treatments.
Before you make a decision, call us for a free at home consultation and our friendly team will discuss and go over the range of options available for your needs and preferences.