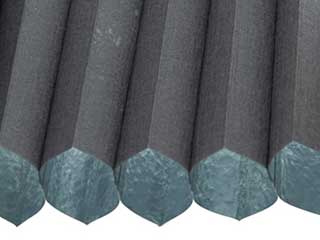 It is a fact that cellular shades are one of the most popular types of window treatments available today. Thanks to their unique design, these coverings can provide better insulation and prevent the loss of warm or cool air through the windows. They present an air-trapping barrier that helps them contribute to the energy efficiency of the property. Did you know that there are different types of cellular shades available? Let's check them out so that you can decide on the ideal option for you.
Small-Cell Blinds for Small Windows

The so-called small cellular shade models are usually 3/8 inches in size. These coverings are ideal for short and narrow windows as they make them appear visually bigger. They are among the most popular options for kitchen windows, for example. They can also work for the bathroom. If you have a double window and you want the covering to be in between the two sections, then you should definitely pay closer attention to the models with small cells. Given that the honeycomb-like pockets of cellular shades are so small, these window treatments often have a double-layer design. Basically, there are two layers of small cells. This is how the blinds offer even better insulation. At the same time, they become heavier and wider. These are factors which are very important for the installation, as it determines what type of headrail and support foundation the shades will need.

Mid-Sized Cellular Shades

When it comes to aesthetics, blinds with medium-sized cells can match practically any standard or large window. They work great for top-to-bottom windows and for patio glass doors too. There are two cell sizes to choose from in this category. You can get cellular shades who's pockets are 1/2 inches large or 9/16 inches large. If you do the math, you can see that the difference between the two options is relatively negligible. They often appear the same to the human eye. Given their universal appeal, cellular shades with medium-sized cells come in a great variety of designs and colors. You can get darkening shades for the bedroom or sheer ones for the living room, for example.

Shades with Large Cells

These cellular shades, with honeycomb-like pockets measuring 3/4 inches, are usually chosen for very wide windows. They not only look great, but also have a lower weight per square foot. This means that they can stay in place securely without the need for any additional support elements. You will be able to open and close them conveniently without the need for special control mechanisms. Of course, motorized cellular shades still make for a very viable and worthwhile option, especially if you're looking to automate as many parts of your property as possible.
Need Some Advice?
Laguna Beach Blinds & Shades will happily provide it. You can call us directly, or use the online scheduling system on this website to book a free consultation appointment.