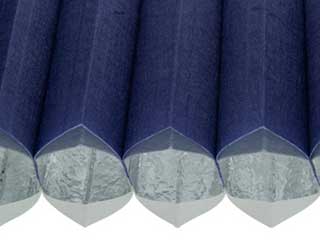 Cellular shades, also known as cellular shades, are a type of window coverings made from soft paper or cloth-like pleated fabrics. This material is built in such a way that it forms honeycomb-shaped cellular compartments that block and filter light and provide insulation. These shades are known for reducing heat transfer and providing black-out like conditions at night, depending on the material's sheerness, of course. They can be raised and lowered horizontally with a string, and are compact when raised, giving you a clear view of the outside. They are very popular because they have a clean style and offer a great deal of functionality and versatility.
Perfect for High-tech Homes
While there are cordless cellular shade options available that are still hand-drawn, let's not forget about automation. Motorized shades are fast becoming all the rage, and you'd be glad to know that cellular shades can be attached to a motor that will make opening and closing them simple and efficient. In fact, many motor and control models nowadays, especially products made by Somfy and Lutron, to name a couple of major brands, also allow for light sensors integration and smartphone control. Motorized cellular shades can make a great addition to not only residential properties but to your business as well.
Single, Double, and Triple
Cellular shades feature honeycomb-like cells that come in three different types of sizes: single, double and triple. As you can probably guess, the size has a direct correlation to the level of insulation. Single cell shades are optimal for climates where energy efficiency isn't a major concern. Double cell shades have two layers of cells to provide a mediocre amount of insulation. Triple cell shades are the best choice for homes and businesses in climates with extreme weather and serious insulation needs. Why is insulation such a benefit? Because it can help reduce your energy bill, for once. It helps you preserve a desired indoor temperature, thus making things a little easier on your HVAC unit.
Are Cellular Shades Right For Me?
Maybe. They're probably an excellent fit, as they make for a great addition to most rooms. But maybe there's some other type of window treatment that'll suit you better. How can you tell? Simply. By reaching out to us at Laguna Beach Blinds & Shades. We offer a variety of shapes, sizes and customize preferences with our custom made coverings, including top-down or bottom-up, cordless lifts and loops! Contact us today to have an expert come over to your house for a free consultation at your convenience.