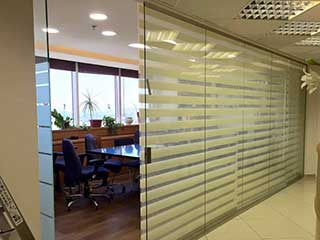 Offices and other commercial establishments value the importance of efficiency in all the endeavors that they involve themselves in. This is not only reflected in their productivity, but also in their day to day operations. It is during the daily operations that some things tend to be overlooked – things like the use of blinds and shades to improve the interior ambiance, and employee productivity.
What Blinds and Shades Have To Offer
Window treatments do more than complement the surrounding decor. They make for a great way to simply and efficiently control how much sunlight gets in, and how much privacy the room has. Ther'es more, of course. Some types of coverings, like cellular shades, for example, can provide some added insulation to any room they're installed in. This means saving some money on heating or cooling bills. The use of window covers is a very important part of planning and operations for any business or office, though not everyone may be aware of the benefits that can be gained from using them.
The Benefits Don't End There
Different types of businesses have different requirements and needs. There still remains a common need, however, and that is efficiency and the protection of your bottom-line. One of the best and nearly maintenance-free ways is to make use of the best window coverings available to contribute to the indoor environment. That could mean reducing glare from the sun, providing some UV protection, or brightening the room with some natural sunlight.
Improve Employee Productivity
Looking to improve the morale of your workforce? You might want to consider changing the look and functionality of your windows. These apertures make up a large portion of the room's interior design, so it would serve you well to reconsider putting up new blinds or shades that will make the indoor environment and ambiance more pleasant. This isn't just beneficial for business owners who care about their employees. New shades can also affect the overall pleasurable experience of customers who visit your store or shop. Places like restaurants, hotels, schools or even hospitals need to be mindful of how their blinds and shades affect the well-being and pleasant experience of their customers.
Which Blinds Are Right For My Business?
This question can have many answers, as the right window treatments for one business aren't necessarily the best ones for another establishment. It depends on various factors, including your budget, interior decor, and - most importantly - what you're trying to achieve. Motorized shades, for example, will offer you a lot of convenience, but will usually be more expensive than hand-drawn counterparts. Wood window treatments require more maintenance than, say faux wood blinds, that can bring an appeal to the room without the extra upkeep. Laguna Beach Blinds & Shades offers a wide selection of custom window coverings. Contact us to schedule a free consultation appointment with an expert who'll gladly answer any questions you may have.