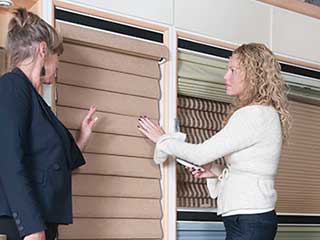 As the foremost provider of custom window coverings in Laguna Beach, we offer free consultation to all our customers. This is far more than just an opportunity to measure your windows. We take our job very seriously and want to provide you with the best service possible. Many retailers don't bother with in-person consultations, and are perfectly happy to just superficially take your order. To us though, it's an essential part of our local business.
Visualize Your New Window Coverings
We offer a huge range of different options, with a number of styles and designs to choose from. It may however be hard to perfectly picture how these designs will look when they're in your - how it looks on the screen may not do the real thing justice. Our representatives will carry a selection of materials with them to your consultation meeting, allowing you to envision exactly what your room will look like when the new products have been installed.
Our Expert Advice
How often does the average homeowner buy a new set of window coverings? Probably not that often. Our team designs and installs dozens of new blinds and shades per month, giving our employees a wealth of experience to draw on. This can be invaluable, allowing our team to suggest better alternatives - for instance, they might advise fitting faux-wood blinds in particularly humid or inaccessible areas, to reduce the difficulty of keeping them clean.
Accurate Quotations & Measurements
Thanks to their years of experience, our employees can quickly give you an accurate quote for your chosen set of window coverings. In addition, they're able to measure your windows for your new systems, taking into account any additional room required for mounting and fitting the blinds or shades. This guarantees extra security that when your new window coverings arrive, they'll be exactly what you had in mind.
Our Team Is Ready To Help
There's no need to wait for an in-person consultation. If you're considering replacing your home's window coverings, simply get in touch with Laguna Beach Blinds & Shades today. Our team is always on hand to help - find out what we can do for you.